Video On The Web - Information Technology

The moving image online is now an essential component of both professional and hobby sites. The tools that were once the province of big corporations like the BBC, CNN, SKY etc. etc are now desktop applications, enabling anyone to get their hands on them and edit feature- length films.

Video online, though, has only become possible because a number of factors have converged over the last few years. The almost ubiquitous installation of broadband internet access has meant that the delivery platform for almost full-motion high definition video is now a reality. The introduction of dual core processors into PCs together with advances in both graphic cards and rendering software have also played their part.

For the web designer, placing any kind of video on a web page isn't yet child's play. A number of factors have to be considered to ensure visitors to the site have a positive experience. Here at ToromeTech, we have the know how to help you showcase your videos. Below is a simple Video Player to illustrate some of our skills - Enjoy the clips.

In the design below, content (video clips) are stored in a remote location . The Flash interface retrieves appropriate content when the user clicks on a particular title from the thumbnail menu below the video display section. When new content is added to the remote location, the interface will automatically updates it menu to reflect the change.


Start videoplayer by either clicking any of the thumbnails at the bottom or click the play button at the top
---
The Technology
To view video on the net it has to be captured,encoded and finally delivered. This process is depicted in the figure below. Why do you need to encode? At the most basic, it's because raw video is huge. If you don't encode your video, it will be too big to transmit over the Internet to your viewers. The process of encoding involves making the video as small as possible while maintaining the highest quality possible. It's a delicate balance. You can get an amazing looking video at 4 Mbps (that's the video bit rate - how many bits get transmitted every second) at 1920 * 1080 pixels, but you would need an Internet connection that is over 4 Mbps to stream it, or else download a file over 1.5 GB to view it. Conversely, you can easily create a video file that is only 100 kbps, but it may look so poor that no one wants to watch it.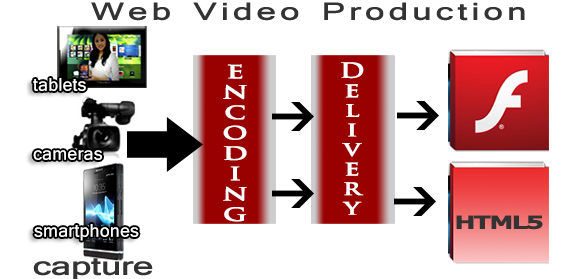 Capturing devices can be as basic as a smartphone to sophisticated HD camcorders. Obviously the gadgets you employ will have a bearing on the end product. Have a look at YouTube and you will get the full picture.


Flash
When it comes to video delivery Adobe Flash Player has cornered the market - with good reason. It provides consistent information among different video delivery mechanisms independent of the actual video player used - such as Open Source Media Player (OSMF), Brightcove, JW Player, and others - that provide their own APIs(Application Programming Interface).



HTML5-Video
HTML5 is now making so much wave that excerpt you are from another planet recently not to have noticed. Some of the most heavily publicized additions include the support for SVG graphics, the new canvas tag for displaying interactive graphical content, and the video tag for displaying video content. The later gives you the ability to embed video content directly into your web pages without the need for a third-party plug-in such as Flash Player. This new ability for browsers to provide native video has made it a lot easier for web developers to add video content to their websites. However there are still some issues with codec - these are software that encode or decode video for a specific file format. Although the HTML5 specification initially mandated support for the Theora Ogg video codec, this requirement was dropped from the specification after it was challenged by Apple and Nokia.

Sadly this means that different browsers support different codecs, which sounds like a bit of a pain and it is. Recently, the situation has improved so that you only need to provide your video content in two different formats: MP4/H.264 for Safari and Internet Explorer 9, and WebM for Firefox, Chrome, and Opera. Firefox also supports Theora Ogg, but it has supported WebM since version 4. The other problem HTML5 Videos is DRM - Digital Rights Management. If you're concerned about people being able to download and freely share your videos, then HTML5 video may not be right for you. As it stands the current specification when implemented on a web page enable users to access the direct URL to your video files, which they can then freely download. There is currently no way to prevent this with HTML5.At some point in the future a standard method may emerge to handle digital rights management (DRM) in HTML5 itself, but currently there is no such method.

Flash does provide DRM and is also being used to provide a fallback method to serve video content to legacy browser users. As powerful as it is, HTML5 video is not currently advisable for those wishing to protect their video content. It still though in its infancy and much more need to be done with standardization.


Post encoding, you have two choices of delivery - Progressive or Streaming(sometimes called live)



Progressive Delivery:
The advantage of the scheme is its simplicity (there is no need for a special streaming server) and the automatic use of HTTP caching infrastructure. The disadvantage of the scheme is that you have no control of the video download, limited seeking ability (the user cannot seek to video that has not been downloaded), waste of bandwidth (the entire video is downloaded as fast as network connection can handle, even if it is not viewed), among other drawbacks. As such, progressive download is only applicable to the simplest video applications. Since video is transferred over HTTP, a content-protection mechanism may be required. YouTube uses progressive video download along with special server-side components to overcome the above-mentioned limitations
Streaming Delivery:
Live video means that you're capturing, encoding, and delivering video in real time. The user can start to watch the video immediately a connection is made. Think of a sports game that is being streamed on the Internet while it's happening or video conferencing. It is a more advanced video playback mechanism. With regards to Flash, the Flash client obtains video data from a special streaming server, such as Adobe Flash Media Server. Streaming is implemented using Real-Time Messaging Protocol (RTMP), which is an open protocol developed by Adobe.
The advantage of RTMP streaming is comprehensive control over buffering and download for optimal performance. Fast start, seeking, trick modes, and multi-bitrate streaming are readily supported. There is no wasted bandwidth; only the necessary video data is downloaded. Video data is not written to disk (browser cache, or any other location) but processed by Flash as soon as it is received.
There are several flavors of RTMP: it can be tunneled over HTTP (RTMPT) or SSL (RTMPS). Flash Media Server also offers an encrypted format (RTMPE), used by many video sites.
It is at the encoding process where the joggling act (read delicate balance) is performed. Various parameters here can be experimented with to obtain the best quality video for your intended audience.